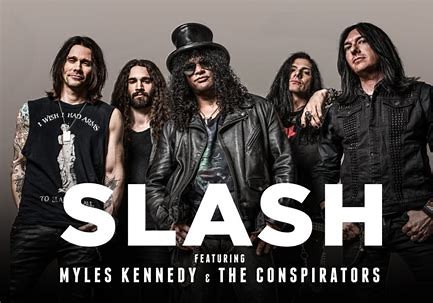 Learn the intro riff to the song by the sword by Slash & The Conspirators.
If you would like to play a little of Slash this free audio lesson could be for you. Grab that top hat and Les Paul guitar and get riffing.
Saul Hudson, born July 23, 1965, aka, Slash.
Is a guitarist who is better known as the lead guitar player for the hard rock band Guns N' Roses.
He achieved worldwide success in the late 1980s and early 1990s.
Slash has received critically acclaimed and is one of the greatest guitarists in history.
He acquired the nickname "Slash" as a child by actor Seymour Cassel,
In 1983
He joined the band Hollywood Rose.
In 1985 he joined Guns N' Roses (which was the of former members of Hollywood Rose and L.A. Guns), replacing founding member Tracii Guns.
In 1994
Amid growing tensions within Guns N' Roses, Slash formed the supergroup Slash's Snakepit, in 1996 he left Guns N' Roses.
In 2002, he co- foundered the Velvet Revolver with vocalist Scott Weiland.
Slash has released five solo albums:
Slash (2010), Apocalyptic Love (2012), World on Fire (2014), Living the Dream (2018) and 4 (2022).
in 2016
After he formed the band Myles Kennedy and the Conspirators. Slash returned to Guns N' Roses.
Time magazine named him runner-up to Jimi Hendrix on their list of "The 10 Best Electric Guitar Players" in 2009.
Guitar World ranked his guitar solo in "November Rain" number 6 on their list of "The 100 Greatest Guitar Solos" in 2008,[8] and Total Guitar placed his riff in "Sweet Child o' Mine" at number 1 on their list of "The 100 Greatest Riffs" in 2004.
In 2010, Gibson ranked Slash as number 34 on their top 50 guitarists of all time.
Their readers pole landed him number 9 on Gibson's top 25 Guitarists of All Time.
In 2012, he was ad mitted into the Rock and Roll Hall of Fame as a member of Guns N' Roses' classic lineup.
If you like this free lesson, leave a comment with a lesson or riff you would like to learn and I will see about posting a riff you want to learn. Thanks for learning with me.
If you would like private lessons on skype or face to face, drop me a message via my contact form.