29/07/2020 – 14:21pm
I am glad to say that I am back onsite teaching face to face from August 3rd 2020, however due to the coronavirus still present and following the government guidelines the following has to be implemented to keep my students / parents and myself safe during the strange times we now live in.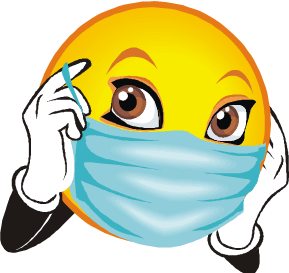 Protect Yourself
Please wear a mask
The following guidelines are implemented
Face covering
A face covering must be worn when entering Leonard House and must be worn during your lessons'. The are some exemptions any child under the age of 11 years do not need to wear a face covering or if someone who has severe breathing difficulties. All other persons over the age of 11 must wear a face covering, and I reserve the right to refuse to give a lesson to anyone who has not brought or is wearing a face covering when arriving for their lesson. From the 23rd of September a clear screen will be added between tutor and student as a more preventative Measure to keep us safe during lessons.
Seating arrangements in your lesson
There will be a 2 meter seating distance between myself and all students taking lessons, only the student is allowed in the lesson room other than dropping off or collection by the parent.f
Parent dropping off & PPE
Parents can wait for there child while they are having there lesson, however, the parent or gradian must be wearing the appropriate PPE (face covering) while they are waiting in the reception or any communal area. Also it is not permitted for visitors to use our toilet or wash facilities as they are for members of staff at Leonard House, so be sure to use other or your own wash and toilet facilities before coming to your lessons as this has been requested by our landlord.
Arrival at your lesson
Call the intercom outside the building and you will then be let in to the premises, but you must be wearing a face covering unless you are under the age of 11. Once in the building please use the code provided after booking your lesson to access the reception, once you are through the security door there is an automatic sanitizing machine to sterilize your hands after using the keypad.
Lesson Room
In the lesson room you will also find a sanitizing machine to sterilize your hands while in your lesson and as you leave.
Cleaning
Please allow a little time for the tutor to wipe down any chairs and door handles before you are allowed to enter the lesson room.
Payment
For those already paying via bank transfer you can continue to do so while onsite, or you can now pay for your lesson or lesson's via contactless card payment using our card payment machine in the lessons room.
Hiring of instruments
Unfortunately I can not let any students use any instruments that the school owns, you must bring your own instrument to your lesson. NO instrument NO lesson.
Symptoms and traveling on holiday
If you have any of the symptoms connected with the corona virus such as fever, temprature above 37.5, cough, sore throat or flu like symptoms please cancel your lesson you will not be charged for this cancelation. You should contact the NHS helpline and order a covid 19 test kit, should you test positive you will need to cancel your face to face lessons for 14 days or you can take your lessons over skype until the 14 day quarantine has past.
If you have recently been abroad on holiday, I request you take lessons on Skype for 14 days after your return before you can return to onsite lessons, should you display any symptoms please have a covid test.
All the above has been implemented to safe guard all my students and myself during this uncertain time, hopefully once the government easies its guidelines I will do the same with in the school.
Latest update 19Th – September
We are also monitoring the R rate in our area should the spread heighten in Tamworth lesson may resume back to Skype only, however, this will only happen based on government information and the decision will be made by the school should it feel the need to do so with infections now on the rise again.
Kindest Regards
Lee Barfield
L. A. Guitar School.