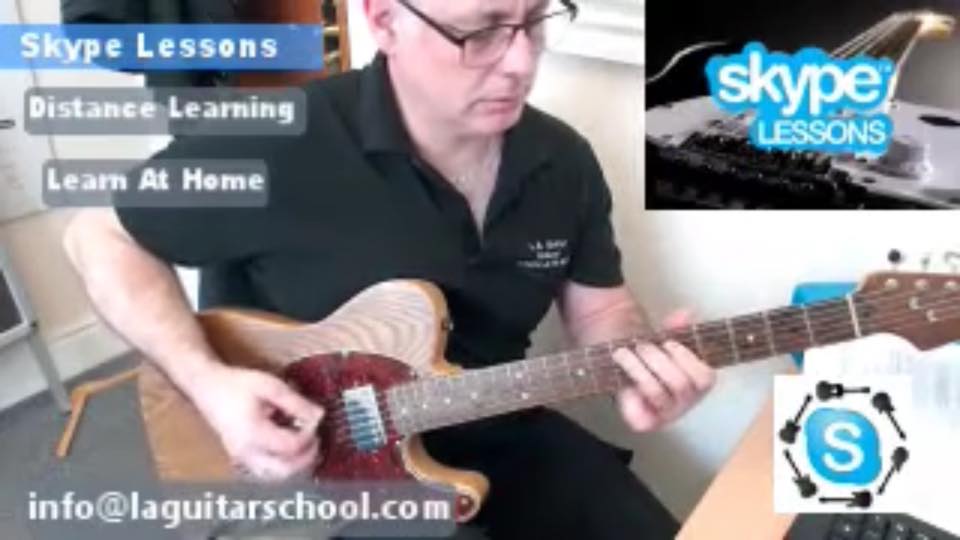 L.A. Guitar School offer online distance learning through the following apps'
– Skype
Since the start of the Covid-19 lockdown and isolation requested by the government, I am currently teaching through the above apps.
I was not sure how this was all going to go, but it has been really great so far, I teach a wide age group of students and because of the above skype app lessons are still been able to continue.
Skype is my first choice for distance learning as I can see the student and they can see me, and I can share my computer screen. So while I'm teaching you, you can also see my screen and I can walk you through lesson sheets in real time. I also accompany the lesson sheets and video clips of the songs you are learning, this is all sent to you through Skype at the end or during the lesson.
You do not need a webcam as my experience of teaching is not just a visual thing I can identify whether you are playing things correctly or not purely by ear, so if you are camera shy please don't worry you will not need to use a webcam if it is not for you as the audio and my camera will still be good enough for you to pick up the lesson with ease.
The best devices for skype are a PC, Laptop or tablet. Phones do work but the screen size can make reading my lesson material a little difficult.
Windows 10 automatically come pre-loaded with the skype app, if not you can download the app from the link below.
<<click the here to download Skype >>>
Other than that my current students are really enjoying the lesson experience through skype.
If you are interested in taking some live online guitar, bass or ukulele lessons then please visit my contact form on this site and drop me a message at anytime. Click the link below to advance you to my contact form.
I offer a free 30 consultation lesson over skype, so if you are unsure whether skype is for you here you can have a free 30 minutes to see how skype works for my lessons. You will receive a short lesson on using skype and a short lesson on your instrument, there is no obligation to take further lessons but if you like it we can arrange your first lesson appointment over skype at the end of the session. Contact me for a free 30 minute consultation via the link below.