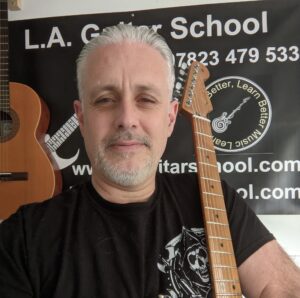 L.A. Guitar School originally started from express music Tamworth in 1995, the music shop is now where the toolbox stands near the town hall where the Sir Robert peel status resides.
My lessons have been established since 1995, and I have taught over 30,500 lessons over my 27 years of teaching guitar.
Why do I teach guitar
I have enjoyed playing for many years, but never started playing to teach guitar until I was asked to teach some students when my tutor move to the U.S.
So, becoming a teacher on guitar was not my initial reason for playing the guitar, however, due to non-visible disability it has given me employment when a regular job was not available to me when I was seeking employment, this i feel was due to lack of understanding of my condition, and how it drives me to succeed when the odds are against me. "My disability"
"Guitarists with visual impairments or blind that inspired me"
Education
My professional education was through the institute of contemporary music and performance (ICMP), formally the guitar institute of technology. Here I successfully acquired a scholarship to study at the college, where I graduated with my diploma distinction and my grade 5, then in 1999 I successfully acquired my grade 8 with Rock school. The school was also supported by the prince's trust.
Live playing
I've played in many bands ranging from blues, rock, metal and jazz, where I was a regular player at Bob's good times blues bar Shepard Bush London and the roadhouse coven gardens London, before returning to Tamworth as the main guitarist for a few years for tumbling dice "rolling stones" covers band.
Years of experience
I've been playing now for 31 years and been teaching for 27 years, if you are interested in taking lessons with me then drop me a message with the contact button at the bottom of this page and I'll gladly get you accommodate you no matter what level you are.
I am a very experienced teacher and been professionally tutored by session guitarists who have been in their professional field for years from the cruise ships, studio musicians & guitar magazine columnists.
My past tutors
Ed Buchanan – introduced me to reading standard notation, reading music
Mark  Rogers – inspired me with his amazing rock lessons and which drove my interest in learning and practicing every day for hours on end.
Brian Robinson – my theory God you had a question he answered it no matter how tricky the information that I was requesting, he also pushed my music reading really hard, and inspired & encouraged me to the point of my scholarship in London.
The Guitar Institute London (ICMP) 1994-95
Dave Kilminster – Steven Wilson Band & Roger Waters, guitar techniques magazine
Guthrie Goven – The Aristocrats & Steven Wilson Band
Max Milligan – Cherry Lee Mewis & session guitarist
Iain Scott – Los Angeles Guitar Institute and guitar player magazine
Shaun Baxter – Wolverhampton University head of guitar
Pete Whitard – Session guitarist
Barry Langton – Jazz cruise ship entertainer and session guitar
Alan Limbrick – Mike Oldfield Tubular Bells,Joan Amatrady
Rob Burns – head of music new zealand
I am grade 8 with RSL Rock school Trinity Collage, and a graduate of the London Guitar Institute ICMP.
I am also a member of the musician's union and also DBS Check with the barring and disclosure services a music teacher.
DBS – Certification Number 001569443941
Learn with me
I would love to assist you in starting to play or continue your learning progression if you already play guitar.
My Mission
I will pass on everything that I have learned to you so you can enjoy playing as much as I still do. And you will learn in a professional non judgmental friendly environment.
To you
If you would like to book a taster lesson drop me a message from the contact me button below, and grab your free 1st lesson with me,.