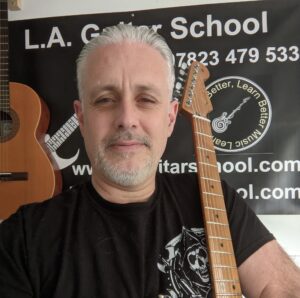 L.G.S Music Tuition – Guitar, Bass, Ukulele & Banjo Lessons Tamworth.
Lee Barfield the tutor at L.G.S Music Tuition, teaches all age's of student and abilities.
LGS Was foundered in 1995, from a local music store in Tamworth.
LGS originally started from express music Tamworth in 1995,  the music shop is now where the tool box stands near the town hall by the Sir Robert peel status resides .
My professional education was through the institute of contemporary music and performance (ICMP), formally the guitar institute of technology. Here I successfully acquired a scholarship to study at the college, where I graduated with my diploma distinction with honours and my grade 8 with Rock school. The school was also supported by the prince's trust.
I've played in many bands ranging from blues, rock, metal and jazz, where I was a regular player at Bob's good times blues bar Shepard Bush London and the road house coven gardens London, before returning to Tamworth as the main guitarist for many years for tumblin dice "rolling stones" covers band.
I am a very experienced teacher and been professionally tutored by session guitarists who have been in there professional field for years from the cruise ships, studio musicians hired displaying in bands such as Joan Amatrady, Steve Wilson, Roger Waters, whitesnake, Mike Oldfield and more.
I've been playing now for 31 years and been teaching for 26 years, if you are interested in taking lessons from me a message and I'll gladly get you start no matter what level you are.
Personal Disclosure to you
More about me and I would like you to know me more than just your tutor.
I am proud of what I have achieved in my life with my tuition business, at the age of 14, I was diagnosed with a sight loss condition called retina pigmentosa this is a degenerate condition which leads to total blindness, I currently can only read larger size font's and I have no peripheral vision I can't see from the sides or above or below I only have limited central vision. In poor light I am completely blind, hence, I use a full white Cain.  
Some of you who have lessons with me may also notice that I sway or rock my head, unknown to science some people suffering with sight loss do this – Steve Wonder, Ray Charles & sometimes Jeff Healey, I am completely unaware that I do this until I caught on video my self or someone  tries to imitate, or point out about me swaying or rocking my head. Neither the less, I am comfortable with both my sight issue and the swaying of my head,,,, that's just me.
"I am not interested in sympathy, I am proud of what I've achieved and this drives me to keep achieving".
The Guitar Institute London (ICMP) 1994-95
Dave Kilminster – Steven Wilson Band & Roger Waters
Guthrie Goven – The Aristocrats, Steve Vai and G3 Joe Satriani
Max Milligan – Cherry Lee Mewis & session guitarist
Iain Scott – Los Angeles Guitar Institute and guitar player magazine
Shaun Baxter – Wolverhampton University head of guitar
Pete Whitard – Session guitarist
Barry Langton – Jazz cruise ship entertainer and session guitar
Alan Limbrick – Mike Oldfield Tubular Bells,Joan Amatrady
Neil Murray – Whitesnake, Steve Vai
Rob Burns – head of music new zealand
Lee Barfield is a member of the musicians union and also DBS Check with the barring and disclosure services a music teacher.
DBS – Certification Number 001569443941.
I would love to assist you in starting to play or continue your learning progression if you already play guitar.
My Mission
I want  is to pass on everything that I have learned to you so you can enjoy playing as much as I still do. And you will learn in a professional non judgmental friendly environment.
To you
learning to play a musical instrument is not easy as it takes time and practice, whether you are just playing for fun or you want to take it further.
I will help you structure your practice around your life style, if you give me an honest run and practice I will make you a decent player.
if you would like more information about lessons and prices please hit the button below.