Guitar tutor at LA Guitar School – Guitar Lessons Tamworth.
Lee Barfield the tutor at L.A.Guitar School, teaches all age's of student and abilities.
LA Guitar School Was foundered in 1995, from a local music store in Tamworth.
I never started playing guitar to teach other people, after playing for a couple of years my tutor who was moving away asked me if I would like to take over his students. So I agreed to try teaching purely as another interest, and see if I was capable, I enjoyed teaching the students but felt I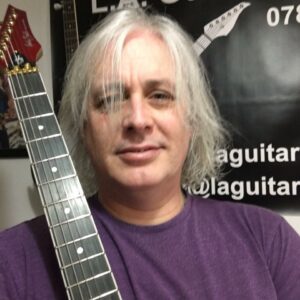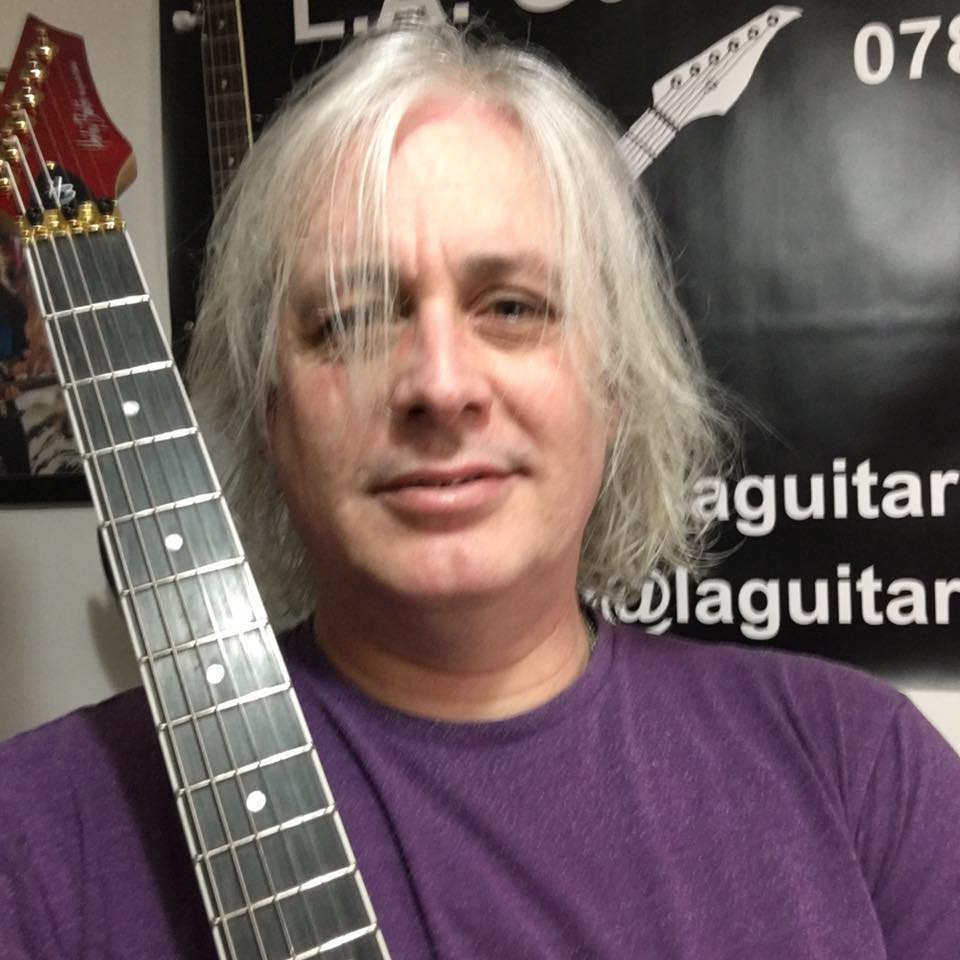 needed more ways of teaching rather than just teaching rock guitar.
After realising that I needed professional coaching and teaching techniques I received a scholarship sponsor to study at the guitar instititue of technology now formaly known as ICMP the institute of contemporary music and performance in London, I first went to London for an audition with the head of the school at the time Alan Limbrick a session guitarist and owner of the school.
After the nervous audition I was accepted into the school, as I had learned all the basic skills to enter the guitar institute.
I started studying at the guitar institute of technology ICMP in April 1994 on their extensive and intense 12 month diploma course, learning the equivelant of 10 years learning in just one year. I learnt some amazing styles as well as performing in live band situtations with my fellow students in my class. I also acquired my grade five in modern guitar playing and performance at the guitar institute.
After successfully graduating in 1995, I returned home to Tamworth and started to set about teaching again with all my knowledge and teaching techniques to start my own guitar tuition business.
A local music shop in Tamworth allowed me to start teaching on a Saturday to start with, eventually I started teaching in the week evenings as well as all day Saturday teaching complete beginners and experience players. I also while teaching furthered my guitar studies by passing my grade 8 in modern guitar and performance, which I also teach my students so they can also achieve the exam grades I also achieved.
After 12 months of teaching at the music shop, sadly the music shop was about to close it's doors in Tamworth to focus on the other shop in Birmingham.
I then moved my business to 93 Lichfield St, teaching from the white house a very large business centre. I then in 2017 moved to Leonard House in Silver street in Tamworth. Another business centre where I have a professional office studio, where I still continue to teach a wide variety of student of all ages.
I really started to play guitar at the age of eight years old; unfortunately I did not stick to my lessons. In those days there were no such books that contained modern notation like today, and there was only standard notation (dots) as I liked to call them. My guitar lessons back then were at a music shop in Tamworth which was a Yamaha out let in church st, however this was in 1981. The same shop was still there when I was 1990 they had a guitar section up stairs, and I remember touching the strings on a fender stratocaster and this rekindled the want to play guitar.
I picked up the guitar again when I was 17 years old, with the use of modern notation (tablature) I progressed a lot quicker and I've been playing ever since.
I did return to reading (dots) to acquired my grade 5 & 8 with Rock School trinity college, during and after graduating from the guitar institute London (ICMP) in 1994-95.
I am also a member of the musicians union, and registered as a guitar teacher with them.
I have also played in bands, one in particular was a band called Tumbling Dice a rolling stones covers band. I was with this band for approximately 4 years gigging around the midlands area, I have very fond memories of playing in this band with great members. Drums Andy Whelan, Bass Den (the dude), Vocals & Rhythm Guitar Ben Machin, and my self Rhythm & Lead Guitar Lee Barfield.
My tutors stem from local guitar teachers to teachers that have written for guitar magazines and full time session musicians in London.
My past tuition
Mark Rogers – 1st tutor who got me started
Brian Robinson – 2nd tutor my theory teacher
The Guitar Institute London (ICMP) 1994-95
Dave Kilminster – Steven Wilson Band & Roger Waters
Guthrie Goven – The Aristocrats, Steve Vai and G3 Joe Satriani
Max Milligan – Cherry Lee Mewis & session guitarist
Iain Scott – Los Angeles Guitar Institute and guitar player magazine
Shaun Baxter – Wolverhampton University head of guitar
Pete Whitard – Session guitarist
Barry Langton – Jazz cruise ship entertainer and session guitar
Alan Limbrick – Mike Oldfield Tubular Bells
Rob Burns – head of music new zealand
Lee Barfield is a member of the musicians union and also DBS Check with the barring and disclosure services a music teacher.
DBS – Certification Number 001569443941.
I would love to assist you in starting to play or continue your learning progression if you already play guitar.
My Mission
I want  is to pass on everything that I have learned to you so you can enjoy playing as much as I still do.
To you
learning to play a musical instrument is not easy as it takes time and practice, whether you are just playing for fun or you want to take it further.
I will help you structure your practice around your life style so you will progress as much as some students that can practice for hours, give me an honest run and I will make you a decent player.
if you would like more information about lessons and prices please drop me a message <<Contact Me>>